This course covers the most essential aspects of physical form at work in the design of all cities from older, highly-localized urban grids in the Middle East/Africa to deformed grids in Europe to regular grids in the United States/Americas. All cities utilize these (usually geometric) properties, though the scale of which they are realized will tend to vary during urban growth in defining a distinctive spatial culture.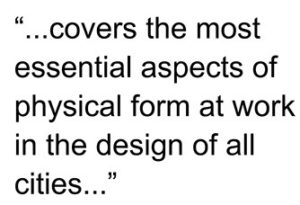 The purpose is to provide an understanding of the basic typologies/geometries of urban form that can be found underlying all settlements around the world, to one degree or another (1.0 hour course).
Key concepts: grid expansion, block manipulation, linear extension, grid deformation, discrete separation, and urban blocks.
Includes a one-hour video presentation and PDFs of the course notes and slide handout.
Please note there may be a delay for a couple of hours before you might be able to access the course because we have to confirm receipt of payment for each order before completing the purchase.
About the Instructor
Dr. Mark David Major, AICP, CNU-A is an architect and planner with extensive experience in urban planning and design, business management and real estate development, and academia. He is a Professor of Urban Design at the Savannah College of Art and Design. Mark has been a visiting lecturer at the University of Florida, Georgia Tech, Architectural Association in London, the University of São Paulo in Brazil, and Politecnico di Milano in Italy.