The course examines movement, congregation and space use in crowd phenomenon based on two studies in London during the late 1990s. The first was New Years Eve celebrations in central London and the second is the 'Diana phenomenon' of crowd gatherings in public displays of mourning in Kensington Gardens. The course argues two points. First, clearly, there are crowd characteristics particular to specific events, i.e. number of people, time factors, and crowd management measures.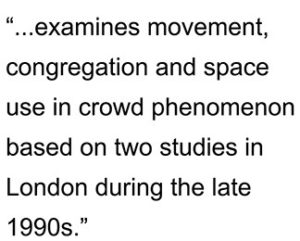 Second, many crowd characteristics often represent only a dramatic, temporary intensification of everyday circumstances in urban conditions, which has implications for recent pedestrian-oriented design concepts such as shared space (2.0 hour course).
Key concepts: crowds, movement, occupation, police, risk management, urban design.
Includes a two-hour video presentation and PDFs of the course supplementary materials and slide handout.
NOTE: This course makes selective use of space syntax. Even if you are not familiar with space syntax, the subject matter should not be considered a deterrent.
Please note there may be a delay for a couple of hours before you might be able to access the course because we have to confirm receipt of payment for each order before completing the purchase.
About the Instructor
Dr. Mark David Major, AICP, CNU-A is an architect and planner with extensive experience in urban planning and design, business management and real estate development, and academia. He is a Professor of Urban Design at the Savannah College of Art and Design. Mark has been a visiting lecturer at the University of Florida, Georgia Tech, Architectural Association in London, the University of São Paulo in Brazil, and Politecnico di Milano in Italy.