This course reviews the seductive correspondence between cinema and architecture. Over the last four decades, the film-architecture analogy and startling technological advances, mostly deriving from computer science, have blurred the distinction between cinema and architecture. Collectively, this tends to obscure the most important aspect, which is architecture's impact on the dual aims of cinema, e.g. narrative and technology.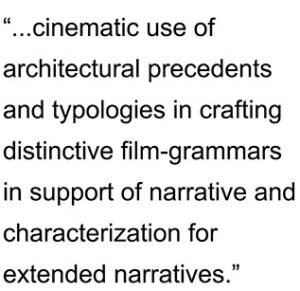 Part III reviews the cinematic use of architectural precedents and typologies in crafting distinctive film-grammars in support of narrative and characterization for extended narratives. The "Architecture and Film" course series more closely examines the frequent role of the built environment in creatively reinforcing or subverting expectations of the audience about cinematic narratives (2.0 hour course).
Key concepts:  extended narratives, science fiction, fantasy, abnormal scale, cultural appropriation, and historical juxtaposition.
Includes a two-hour video presentation and PDFs of the course supplementary material and slide handout.
Part 3 Film and Television Topics
Star Trek, Harry Potter, Blade Runner, The Lord of the Rings, Citizen Kane, Batman, Doctor Who, Inception, A Nightmare on Elm Street, Spellbound, Doctor Strange, 2001: A Space Odyssey, Interstellar, Star Wars, Logan's Run, Alien, Dune, Battlestar Galactica, Zoolander, The Martian Chronicles, Invasion of the Body Snatchers, District 9
Please note there may be a delay for a couple of hours before you might be able to access the course because we have to confirm receipt of payment for each order before completing the purchase.
About the Instructor
Dr. Mark David Major, AICP, CNU-A is an architect and planner with extensive experience in urban planning and design, business management and real estate development, and academia. He is a Professor of Urban Design at the Savannah College of Art and Design. Mark has been a visiting lecturer at the University of Florida, Georgia Tech, Architectural Association in London, the University of São Paulo in Brazil, and Politecnico di Milano in Italy.