The course covers some design, planning, and regulatory strategies deployed to reactivate the riverfront in Central London. London is a metropolitan region of nearly 14 million people covering over 3,000 square miles where redevelopment involves a dizzy array of design, social, economic and political factors, especially in the post-war period.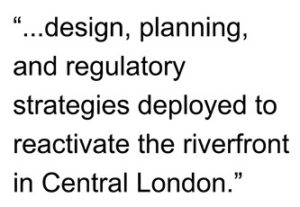 The course narrowly focuses on one particular aspect of redevelopment in that city over the last 25 years by examining five or six projects (depending on how they are parsed) on three sites from Westminster Bridge in the southeast to Tower Bridge in the northwest that proved crucial for revitalizing urban life along the River Thames (1.0 hour course).
Key concepts: Section 106 Agreement, pedestrian movement, tourists, locals, circuiting, river access.
Includes a one-hour video presentation and PDFs of the course notes and slide handout.
Please note there may be a delay for a couple of hours before you might be able to access the course because we have to confirm receipt of payment for each order before completing the purchase.
About the Instructor
Dr. Mark David Major, AICP, CNU-A is an architect and planner with extensive experience in urban planning and design, business management and real estate development, and academia. He is a Professor of Urban Design at the Savannah College of Art and Design. Mark has been a visiting lecturer at the University of Florida, Georgia Tech, Architectural Association in London, the University of São Paulo in Brazil, and Politecnico di Milano in Italy.