Space syntax has made remarkable progress in research and practice around the world over the last 40 years. However, this is not the case in the United States. Space syntax remains on the fringes of American planning and development. This is odd since there seem to be several inherent advantages for widespread application of space syntax in an American context, i.e. ongoing large-scale urban growth, an established research program at one of the country's leading universities, and seemingly 'natural' allies in professional practice. The course covers the financial, institutional, and legal hurdles/pitfalls confronting space syntax in the American market, especially in the private sector.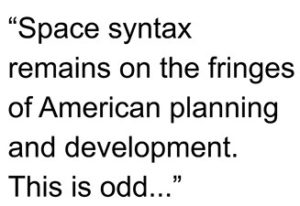 Using a series of 'back-of-the-napkin' financial calculations common to the American development process, the course demonstrates how these challenges can transform into a distinct advantage for advocating the cause of the space syntax in the United States. The course concludes by discussing the enormous challenges and opportunities for space syntax in America today (1.0 hour course).
NOTE: This course is geared towards the space syntax community and people interested in its application in the United States. However, there is actually very little space syntax on the course since it primarily discusses the legal and financial hurdles in the American real estate development process for space syntax and similar scientific approaches. Even if you are not familiar with space syntax, then the subject matter should not be considered a deterrent.
Key concepts: finances, land use law, professional practice, planning, development, and space syntax.
Includes a one-hour video presentation and PDFs of the course notes and slide handout.
Please note there may be a delay for a couple of hours before you might be able to access the course because we have to confirm receipt of payment for each order before completing the purchase.
About the Instructor
Dr. Mark David Major, AICP, CNU-A is an architect and planner with extensive experience in urban planning and design, business management and real estate development, and academia. He is a Professor of Urban Design at the Savannah College of Art and Design. Mark has been a visiting lecturer at the University of Florida, Georgia Tech, Architectural Association in London, the University of São Paulo in Brazil, and Politecnico di Milano in Italy.