The course covers the inherent constraints placed on the physical form and design of built environments by human nature and our basic need for shelter, water, movement, food and other specialized urban functions such as barter and defense in the founding and locating of cities.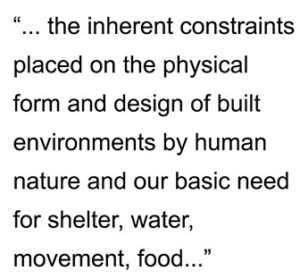 This course covers knowledge that is rarely taught or even spoken about but which we are expected to bring along with us and already intuitively understand based on our everyday experience of built environments. These generic aspects of form and function play a profound, continuous role in limiting the possibilities for shaping our buildings and settlements (1.0 hour course).
Key concepts: human genotypes, generic function, the economy of building, topographical constraints, principles of centrality,  linearity, and self-similarity.
Includes a one-hour video presentation and PDFs of the course notes and slide handout.
Please note there may be a delay for a couple of hours before you might be able to access the course because we have to confirm receipt of payment for each order before completing the purchase.
About the Instructor
Dr. Mark David Major, AICP, CNU-A is an architect and planner with extensive experience in urban planning and design, business management and real estate development, and academia. He is a Professor of Urban Design at the Savannah College of Art and Design. Mark has been a visiting lecturer at the University of Florida, Georgia Tech, Architectural Association in London, the University of São Paulo in Brazil, and Politecnico di Milano in Italy.